Memories of my Fathers
by Amy Hajducek Rule
I guess I'm luckier than most. For years, I've always said I had three fathers.
First of course was my Dad, John Hajducek. He taught me to swim and to ice skate, gave me my love of music, and laid the foundation for the beginning of my life.
Second was my intellectual father, Robert Heinlein. He taught me that it was important to think for yourself, to take responsibility for your own life and actions, and maybe most importantly, that family isn't defined only by blood or law, and that there is always time enough for love.
Third was an unlikely candidate. A grizzled old Jewish guy who taught English classes at Penn State. Who also happened to be a published Science Fiction author. Phil Klass, a.k.a. William Tenn.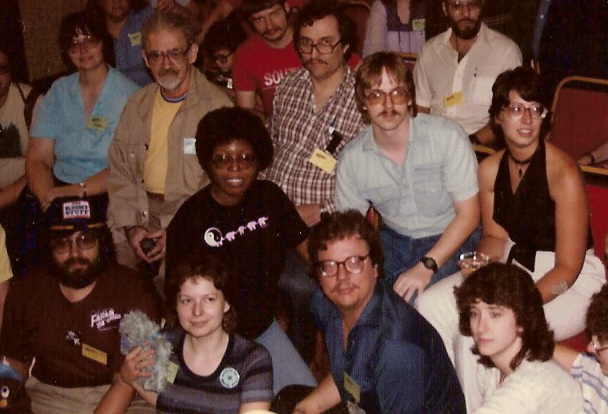 I arrived at the main campus of Penn State in the fall of 1980, a shy, socially awkward freshman. During orientation, I stumbled on a student organization which would literally change my life - the Penn State Science Fiction Society. (PSSFS, pronounced 'Pizz-fizz') I was the typical nerdy geek, (except for being a girl) who would rather read a good SF book than go to a frat party. I was in heaven when I found out I wasn't alone. For the first time in my life I found friends who actually shared my interests. The president of PSSFS was John Bomba, a senior who was going to be TA for the upcoming winter term offering of English 191 - SF as literature. He talked me into taking the class. (Not that it took much convincing!)
I was immediately captivated by Prof. Klass. His classes were pure delight. If you were a jock looking for an easy 'A', this was NOT the place for you! Yes, you got to read SF (and boy did I have fun at the book store buying the huge reading list for the class!) but you actually had to think about it and discuss it intelligently, not just regurgitate what happened in the movie versions. He introduced me to the idea that GOOD SF could be a way of looking at our own society from the outside, of examining social possibilities that the 'real world' wasn't ready for yet.
And on top of that, there was the professor himself. He was smart, funny, and most of all, he was a storyteller! He knew … personally! … people like Isaac Asimov and Robert Heinlein. And he shared his stories of the SF world and the fandom community that I had never dreamed I would have access to. And he really, truly cared about teaching. If you showed any hint at all of original thought, he'd happily bounce ideas around until he just HAD to get to that next appointment. (I never knew him to not be running late.) I've always been someone who got through school easily; but getting an 'A' in English 191 is one of my proudest accomplishments. The next year, I took his literary humor class, and in my Junior year he invited me to take over as his TA for 191. Even though I wasn't an English major, Prof. Klass was more of an advisor to me that the one the College of Business assigned officially. I had to laugh reading Laurie Mann's comments about his greeting her with the line about 'why do they say those terrible things about you?' because he said it to me too. He taught hundreds of students each year, but somehow I managed to be one of the special ones who got to know him.
I have so many memories, but one stands out:
Prof. Klass was the official faculty advisor for PSSFS, and as such we always invited him to our parties, although he rarely came. December 1983, my senior year, the English department had assigned him a formal teaching assistant for 191 in the fall semester, but I hung around anyhow and did much of the work even though I didn't get credit that year. I mentioned to him that I was hosting the PSSFS Christmas party at the house I was renting since all of my roommates were going to be gone home for the holiday break. Imagine our surprise when Prof. Klass turned up! We promptly provided him with a glass of Romulan Ale and then something amazing happened. He pulled up a chair in the living room and began telling stories about Asimov and Heinlein and being in NYC during the 'golden age' of SF. And shortly, every person at the party was gathered around the living room, many sitting on the floor, glued to his every word. He was such a masterful storyteller, and he had known so many amazing people and lived through some of the most exciting times of the SF world. It was an evening I'll never forget.
He had such a profound impact on my life. He was my teacher, my advisor, my guide into the world of SF fandom, which has been my true home ever since, and where I have found my own 'extended family.' I can't say exactly when I began thinking of him as a father figure; but for years he was one of the most influential people in my life. I moved to Baltimore after graduation, but returned to State College in 1997 to marry a fellow PSSFS member who'd also taken the literary humor class with me, as well as several of Prof. Klass's writing classes. The Professor had to go out of town that weekend, but Fruma and Adina were with us on our special day. After that, we didn't keep in close touch with him over the years, as we were in Baltimore and he moved to Pittsburgh, but when our paths crossed at conventions, he always greeted us warmly. The last time I saw him was at the Milennium Philcon when he was GOH. Busy as he was, we had some time to catch up. The funny thing is, in person I've always called him 'Professor.' Never Phil. I don't know why; when we talk about him, it's always Phil. But never in person. I think it's about respect. I'd never call my Dad 'John.'
And now, like Robert and my Dad, he has left us. I realize now that while I told many people over the years about my 'three fathers', I don't think I ever told him. And yet, I think he knew. At that Christmas party back in 1983, he gave me a signed copy of 'Of Men and Monsters' … no, I won't share what he wrote to me, but, yeah, he knew. He taught thousands of students over the years, but I think I held at least a small special place in his heart. He held a big one in mine. Farewell, Professor Klass. I'll keep telling stories about you to the next generation.
In loving memory,
Amy Hajducek Rule
2/10/2010