More Than a Touch of Klass -
William Tenn's Influence on American Popular Culture
To William Tenn Home Page * * Comments to Laurie Mann
[Appeared in a slightly different form in Noreascon 4 Progress Report 2]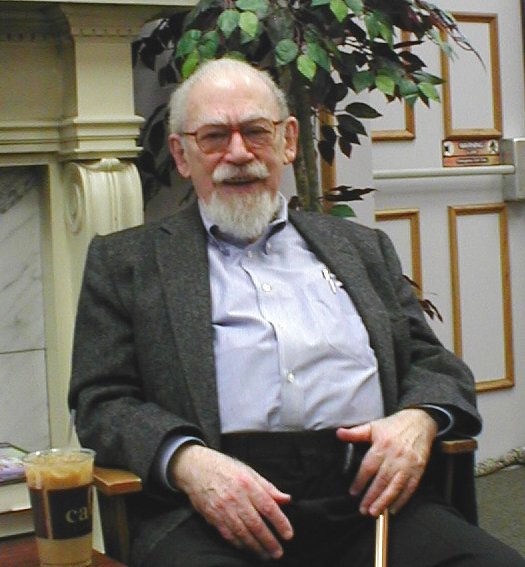 William Tenn at a Borders Booksigning, May 2002
One of our Guests of Honor, Phil Klass, also known as the satiric science fiction writer William Tenn, has been known to, well, exaggerate. Just a tad.
But he didn't write the title of this piece. Honestly. And Phil's reach out into American popular culture extends a little further than you might think.
But first, a little background.
Phil was born in London in 1920. As he describes his parents, "They had a marriage-long fight because my father was a socialist and my mother was an imperialist." They emmigrated to the US during the '20s. Phil grew up in New York City and read science fiction ("intellectual pornography," as he called it in those days), but had no idea that fandom existed. After surviving being in the military during World War II, he took to writing fiction during the lengthy commute to his day job at Bell Labs in New Jersey.
He wrote voraciously in many genres - science fiction, mystery and romance. He had different pen names for each genre. When his fiction started to sell, it was his science fiction that sold first and most often. Soon, Phil Klass was much better known as the science fiction writer William Tenn. He sold at least 60 stories in about 20 years. Ted Sturgeon was his agent (along with other up-and-coming writers like Damon Knight and James Blish). He introduced Phil to fandom in the late '40s. At first, people thought William Tenn was a new pen name for Lewis Padgett. But, soon, Phil was making the convention circuit in person.
Tenn's short fiction has recently been collected by NESFA Press and published as Immodest Proposals and Here Comes Civilization. Unlike much fiction from the '50s, the Tenn stories are quite fresh. Most stories are societal and business satires, demonstrating that the more things change, the more they stay the same.
Phil is probably fortunate to have done most of his professional fiction writing under a pseudonym. For there is another Phil Klass out there who writes about things out-of-this world. Philip J. Klass is a journalist, about the same age as our Phil Klass, but who writes to debunk UFO sightings. As a result, some people confuse the science fiction writer whose real name is Phil Klass with the anti-UFOlogist. The TV talk show host David Susskind once wanted the two Phils to debate UFOs on his show, with William Tenn taking the "pro" position to Philip J. Klass's "con." Our Phil declined. To this day, sometimes checks or invitations to speak are sent to the "wrong" Phil Klass.
Phil is also part of a publishing dynasty of sorts. Phil's wife, Fruma has published SF poetry and received an honorable mention in the Writers of the Future contest. His younger brother, Mort Klass, was an anthropologist who published anthropological textbooks (Ordered Universes: Approaches to the Anthropology of Religion) and the occasional work of SF ("Earthman's Burden"). Mort's daughter, Judy, has written science fiction short stories and a Star Trek novel. Mort's other daughter, Perri, has written very successful non-fiction about the life of a medical doctor. Their brother, David, has written screenplays for movies like Kiss the Girls. Phil's sister-in-law, Sheila Solomon Klass, writes juvenile non-fiction. His sister, Fran Klass, is not a writer, but is active in the arts as a painter.
But Phil isn't just a writer. He edited a few anthologies, notably Children of Wonder in 1953. He was one of the first editors to anthologize now-classic stories like "That Only a Mother" by Judith Merril and "Born of Man and Woman" by Richard Matheson. Phil showed himself to be an editor of excellent taste.
During the '50s and early '60s, Phil, and his wife Fruma, lived in Greenwich Village. They got to know the writers living in the city at the time, folks like Robert Silverberg and Harlan Ellison. He has many amusing stories about the foibles of writers who lived in New York City in those days.
He helped many young writers. Daniel Keyes, who wrote the wonderful "Flowers for Algernon," was a friend of Phil's. Daniel told Phil that an editor wanted him to change the ending of "Flowers" to a happy ending. Phil is reported to have said, "If you change one word of that story, I'll go break the editor's kneecaps." Daniel did not change the ending. The story went on to be published, be extremely well-received, and win a Hugo, a Nebula and a literate translation to the big screen.
During the '60s, '70s and '80s, Phil was a professor of English at Penn State. Dozens of his students went on to be writers and thousands more continued to be readers. Many of his former students, like Kevin Riley, Eva Whitley and Bill Jensen, are active in fandom to this day. During the late '70s, while living in State College, Phil and Fruma welcomed their daughter, Adina, who has attended Penn College and ran babysitting for years at Pittsburgh's local science fiction convention Confluence (a lovely, small convention, which Phil always attends, in late July!).
While at Penn state, Phil may have made his most well-known contribution to popular culture.
Rambo.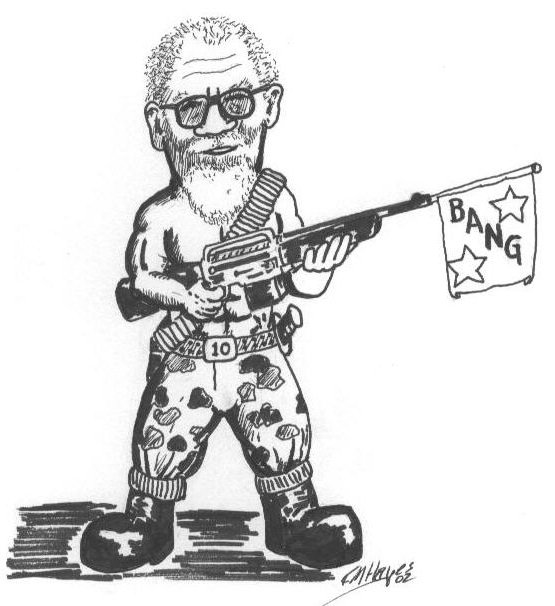 Rambo, by Kevin Hayes
No, Phil did not wander through the Pennsylvania wilderness with a sweatband, guns and ammo, mumbling incoherently and shooting at anything that moved. But one of Phil's students was David Morrell. David wrote a number of novels over the years, including one called First Blood. First Blood featured a dark protagonist named Rambo who became a vigilante, later made famous by Sylvester Stallone. Morrell wrote in a later edition of First Blood:
...if not for the CBS Evening News, if not for Rimbaud, my wife, and the name of an apple, if not for Philip Klass and my determination to be a fiction writer, a recent edition of the Oxford English Dictionary wouldn't have cited this novel as the source for the creation of a word.
Phil's teaching and writing will continue to influence generations of readers and writers. And I hope he'll have a positive influence on you, too!
Official Home Page of William Tenn