Photos from Disclave, May 1997
Jim and I joined Brenda and Larry Clough for a celebration of our "close-to-mutual" 20th anniversaries (them - 5/21/77, us - 5/22/77). Since money was almost no object, we went to the Old Angler's Inn just outside of DC in Maryland along the Potomac. That was the night of the torrential rainstorm in DC so getting there and back was, well challenging. And then there was the shallow but raging river that developed in the parking lot... But the food was great and the service was extremely attentive.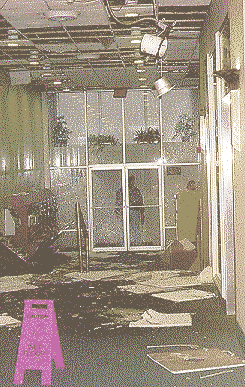 That morning, we'd awoken to this, ahem...example of the dangers of practicing unsafe sex... (And so did the 500 other guests of the hotel who were awoken by the fire alarm which went off after a sprinkler was broken off by a couple of jerks!) This is what between $40,000 and $100,000 of damage looks like at the lobby level - but imagine the poor folks in 303, directly under the room with the broken sprinkler. The elevators were out for about 12 hours, but, fortunately, the hotel is only 9 or 10 stories tall.
We were on 8.
I wound up doing something at that Disclave I hadn't done in years - I helped to write a filksong.