Torcon 2003:
Leslie Mann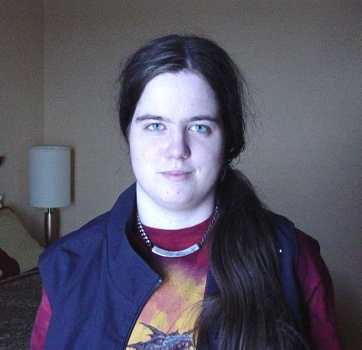 We drove up to Worldcon on a beautiful late summer Thursday and got to Toronto by early afternoon. As you take the QEW around the Lake Ontario, you can see Toronto from about 40 miles away on a clear day. I regret not stopping to take that picture!
As we don't like the elevator delays and noise of the main hotel, we tend to stay in the non-party hotel. We stayed over in the Renaissance at Skydome, which was a short 5 minute walk to the Convention Center and just about a 10 minute walk to the Royal York. We thanked the front desk for thoughtfully putting us on the second floor... ;->
We thought the "Locks of Love" folks were going to be at Worldcon. Since Leslie has extremely long hair, she was going to donate her hair. So, I took a "before" picture. Unfortunately, we misunderstood; Locks of Love wasn't at Torcon, so there isn't an after picture. Leslie plans to get her hair cut for the charity this fall. Due to being (briefly) in the Army, being in school and working, Leslie hadn't been to a Worldcon since LoneStarCon.
© 2003 Photo by Laurie Mann