ConJosé (Worldcon 2002) Photographs:
Monday Afternoon - Tired Fans Mingling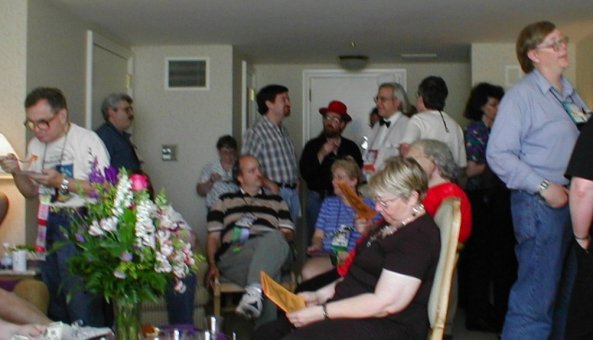 From left to right, Roger Sims, Mike Benveniste, Cookie Cavin, Pat Malloy, Unknown Plaid Shirt, Red Hat (Rick Foss?), Melanie Herz (blue shirt), Ben Yalow, Janice Gelb, Randy Smith, Mary Kay Kare.
I felt worse than the typical "Monday tiredness" on the last day of ConJosé. My ears hurt, I could hardly talk, and I was just plain wasted. So instead of doing the long list of things I'd hoped to do on Monday, I tried to rest. I just sat the the CFG suite and watched the fen wander by. I took another six pictures beyond this one, and, basically, either failed to get a decent shot, or the people in the shot looked worse than I did!
© 2002 Photo by Laurie D. T. Mann