Torcon 2003:
Meeting my Cousins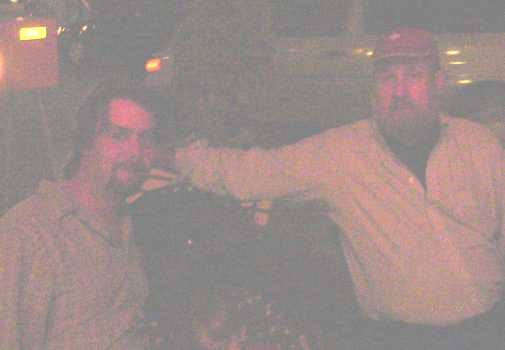 From left to right, that's Sebastian, his father Dana. Sebastian's son is almost visible sitting between his father and grandfather.
We had a very special Sunday dinner at a great Vietnamese restaurant with my cousins. And there's even an SF reference here (momentarily). But first, a little background.
My mother's cousin Alice had a son Dana who went to Canada in the late '60s rather than be drafted. During the '90s, I started putting my genealogy online, and included cousin Alice and her family. In about 2002, I got E-mail from her grandson (and Dana's son), Sebastian, who lives in Toronto and had found my Web site. We arranged to get together for dinner over Torcon. To my surprise, Dana came too. He says we actually had met in the early '60s, when he was a teenager and I was about 4.
Aside from the somewhat science-fictional aspect of meeting your cousins online before meeting them in person, it turns out Dana knew Judy Merril as she was something of a resource for Americans who fled to Canada during the war. Dana is an SF reader.
© 2003 Photo by Laurie D. T. Mann