Dickinson Family of Monroe, NH Genealogy Page
Site Map for the Genealogy Pages
Visit the Dickinson Family Genealogy Forum
Dickinson Family Association
The Dickinsons of New England trace their American ancestry to Nathaniel Dickinson who was born in Ely, Cambridge, England in 1600.
[[from Hudson-Mohawk Family Memoirs, Vol. IV, Hudson-Mohawk Family Histories, Page 1572
He married Anna Gull (Tull?) in 1630. They emmigrated to Boston in 1630 and Connecticut in 1637, where he became a colonial leader. They had ten children. In 1649, they helped to found Hadley, Massachusetts. He died there on June 16, 1676. ]]
For more information about this line of Dickinsons in England, see Steve Condarcure's Colonial New England Genealogy. (Unfortunately, there is no information about the line between Nehemiah Dickinson and Elijah Dickinson almost 100 years later.)
The Dickinsons of Monroe, NH were descendants of Nathaniel's son, Nehemiah. Nehemiah was born in about 1644 in Wethersfield, CT. He married Mary Cowles (daughter of John & Hannah Cowles) in 1671. He died on September 9, 1723 and was buried in Hadley, MA.
Records show that Ruben Dickinson, who came from Fairlee, Vermont in the year 1796 was the first to bring his name to the Monroe area. He acquired a one-hundred-acre tract of land from the John Hurd location, said tract being situated on the east bank of the Connecticut River. It included the Great Falls.
Another large tract of land was acquired by Elijah Dickinson in 1803. Elijah came from Amherst, Massachusetts, where he and his father had been hatters. On January 17, 1839, Elijah deeded his property to Elijah, Jr. It remained in the family until January 1890, when Andrew Dickinson, son of Elijah, Jr. sold it to James R. Miller. In the mid-1950s, the farm was owned and operated by George Leslie Frazer.
Descendents of Elijah Dickinson, Jr. and Hannah Willey
Elijah Dickinson, Jr. was born in Amherst, Massachusetts on December 13, 1791. He married Hannah Willey on October 28, 1815.
Harry was born March 6, 1816.
Lucretia was born on April 25, 1817.
Mary was born in 1818.
Nathaniel was born on July 1, 1819.
John was born on January 29, 1821.
[[There is no further record of Hannah, so it looks as though she died shortly after John's birth.]]
Descendents of Elijah Dickinson, Jr. and Betsy Barney
Elijah Dickinson, Jr. married Betsy Barney, daughter of James and Betsy Barney of North Monroe (Lyman), NH.
Margaret was born July 19, 1824.
Salome was born August 25, 1826.
Horace was born April 27, 1830.
Andrew was born November 6, 1832.
Sarah was born July 6, 1835.
Martin was born November 16, 1841.
Alonzo was born November 19, 1842.
Betsy Barney Dickson died May 11, 1881 in Monroe (Lyman), NH.
Elijah Dickinson, Jr. was known as a thrifty, God-fearing gentleman and was affectionately called "Uncle Elijah" by all who knew him, even by his grandchildren. He died in North Monroe, NH.
Descendents of Nathaniel Dickinson and Hannah Webster
Nathaniel Dickinson, son of Elijah Dickinson, Jr. and Hannah Willey Dickinson, was born in Monroe, NH on July 1, 1819. His early life was spent on the farm. On attaining his majority in 1840, he went to Woodsville, NH, attracted there by the lumber business being carried on by John L. Woods at the time.
On April 14, 1844, he was married to Hannah, daughter of James and Sally Albee Webster of Monroe. He continued his work in Woodsville for some time. On the advent of the B-C & M railroad in that town in 1849, he was employed as a conductor on the White Mountain Division. Eventually, he established a home on a small farm on the border line between Bath and Monroe (Lyman) for his family of growing boys, but continued his interest in the lumber business. For the rest of his working days he was an employee of the Connecticut River Lumber Company. His duties were varied; from River Driving (which they called keeping the logs afloat from one saw-mill to another), to the many phases of work in and around the mill at McIndoes. In the early days of the company, "River Driving" was done by means of rafts and local men only were employed. Nathan's last responsibility was as a night watchman in the Van Dyke Mills at McIndoes Falls.
Curtis was born May 9, 1845 and died October 31, 1926
Charles was born in 1855 and died November 26, 1946
George died in Chicago
On Nathan's retirement, he and Hannah lived a quiet life on their farm with their son, Charles, who tenderly cared for them in their declining years.
Nathan died June 8, 1912 at the age of 93.
Hannah was born July 24, 1811 and died December 24, 1901 at the age of 90.
Descendents of Curtis Dickinson and Florinda Lang
Curtis Dickinson married Florinda Lang of East Barnet (Norrisville), VT on November 18, 1869. Florinda Lang was born on August 24, 1839 and died on November 25, 1915 in East Barnet, VT All their children were born in Barnet, VT.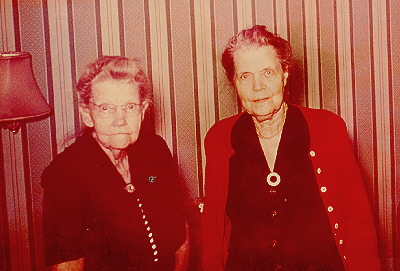 Clara Augusta was born December 3, 1870 [[and died in 1956 of breast cancer (?)]].
Annie Laurie was born August 17, 1872 [[and died in 1966 of old age(?)]].
Willie Nathan was born on July 14, 1876 and died in infancy.
Luella Ethel, born in the 1870s, died on June 23, 1906 of TB in East Barnet, VT.
Florence Mabel, born in the 1870s, died on August 2, 1907 of TB in East Barnet, VT.
[[From Florinda Dickinson's newspaper obituary, December 1, 1915:
"For 48 years she was a faithful member of the Congregational Church in Barnet, and her name stood first on the last at the last annual roll-call of the church. She was also a member of the Woman's Christian Temperance Union of East Barnet and of the Helping Hand Society...She was the local correspondent of the St. Johnsbury Caledonian for 18 years...and the Lyndonville Journal several years."]]
Descendents of Fred Grant Weeks and Clara Augusta Dickinson
Clara Augusta married Dr. Fred Grant Weeks of Chatham, NH on March 29, 1898. He died February 19, 1942 in Woodsville, NH. Buried in Barnet, VT. Children all born in Woodsville, NH.
Marion, born January 31, 1899 (nurse in New York City).
Madeline, born January 15, 1901.
Wilfred H., born December 25, 1904, died May 14, 1949.
Clarice Jeanette, born February 8, 1907 (technician in the H. P. Hood Laboratory).
Carolyn Ruth, born August 20, 1910, died August 22, 1950 (registered nurse).
Albion Lang, born May 13, 1913, assistant Postmaster in Wells River, VT.
[[many changes made from this point on.]]
Descendents of Fred Chandler Shonyo and Annie Laurie Dickinson
Lewis F. Shonyo, emmigrated to Vermont from Magog, Quebec. Lewis was married to Susan Greenleaf, and one of their sons was Fred.
Fred Chandler Shonyo married Annie Laurie Dickinson on January 1, 1894. He was born on January 27, 1876 in Lyndonville, VT. He was a farmer and they settled in a farm just outside of Lyndonville, VT. Annie Laurie attended Lyndon Institute for two years, studying business.
Lewis Dickinson was born on May 7, 1896 and died on December 6, 1966 of throat cancer.
Frank Dewey died in infancy.
Howard Greenleaf was born in May 1905 and died in April 1979 of diabetes.
Annie and Fred lived on the farm for many years, and eventually settled in "downtown" Lyndonville where they ran a restaurant during the Depression. In later years, they liked to watch the fights on TV together. Fred died in 1963 (?) after breaking his hip and Annie died in 1966 (?).
Other Notes on Annie Laurie's Ancestors
Most of this information is from my mother's (Ruth Trask) "Up Till Now," a brief biography she wrote for school when she was 14 (1944).
Annie Laurie's grandmother on her father's side was Hannah Webster, who was a descendant of Daniel Webster and Hannah Dustin (?)
Annie Laurie Dickinson Shonyo "Meets" Francesca Horvat
Some of my husband's cousins are also getting interested in genealogy. They had me scan in some of their aged family photos. I was struck by the similarity in looks between my great grandmother (a Yankee) and their great grandmother (an Austro-Hungarian immigrant):