Shonyo Family of Lyndonville, VT Genealogy Page
Site Map for the Genealogy Pages
Visit the Chagnon Family Genealogy Forum.
Thanks to my mother, Ruth Ann Shonyo Trask, and her relatives who saved clippings over the years and to Jacques Boisvert for sharing his Magog research with me
Descendents of Lewis Shonyo and Annis Boyden
Ouisant Chagnon emigrated from France to Quebec in about 1822. He settled outside of Magog. By 1823, his name appeared in the marriage register as Lewis Shonnio, when he married Annis Boyden. They had three sons and three daughters over the years. Lewis Shonyo died in 1886. Lewis W. Shonyo is listed as having been buried in Pine Hill Cemetary in Stanstead County, Quebec; he died September 5, 1886, age 84years.
Two of the children of Lewis and Annis were Demerritt Daniel and Lewis F. D. D. Shonyo, b. 30 Apr 1836, d. 10 May 1927 s/w Mary Jane Perdue was also buried in Pine Hill Cemetary.
Lewis F. Shonyo, born on December 31 sometime during the 1830s, married Susan M. Greenleaf on September 10, 1866 at Barton Landing, VT. They moved to Lyndonville, VT and had two children:
Dennis, died young in 1872.
From a newspaper clipping, late 1870s/early 1880s
The proprietor of the Union House, Mr. L. F. Shonyo, was pleasantly surprised New Years Eve by the appearance of a large number of his neighbors and friends who took possession of his large sitting room. Those in the employ of Mr. & Mrs. Shonyo with a large number of borders, wishing to show their appreciation of a well-kept hotel, and to impress upon the host that it was the 46th anniversary of his birthday, and had prearranged for this little surprise. When Mr. and Mrs. Shonyo had taken eats with their friends, one of the guests stepped forward and presented Mr. Shonyo with a beautiful and neatly-marked nickle lantern, together with a silver cream and sugar bowl to Mrs. Shonyo, and a small silver cup to little Freddie. It was apparent to all that Mr. Shonyo was better adapted to putting together car sleepers than forming sentences into long speeches. He managed, however, to thank his friends very kindly, and then invited all into the dining hall where the tables were loaded with fruit and steaming with oysters. It was a pleasant gathering and to such as don't dance, worth a dozen New Year's balls.
Susan Greenleaf Shonyo died in 1900. It isn't clear if Lewis survived her or not.
Fred married Annie Laurie Dickinson on January 1, 1894. He was a farmer and they settled in a farm just outside of Lyndonville, VT.
Frank Dewey died in infancy.
They lived on the farm for many years, and eventually settled in "downtown" Lyndonville where they ran a restaurant during the Depression. There's a photo of Annie Shonyo in the 1920s, snowshoing with other local women in a book of photographs about Lyndonville. In later years, they liked to watch the fights on TV together. Fred died in 1963 (?) after breaking his hip and Annie died in early 1966 (?). The local paper wrote a lengthy article about their golden anniversary in 1944.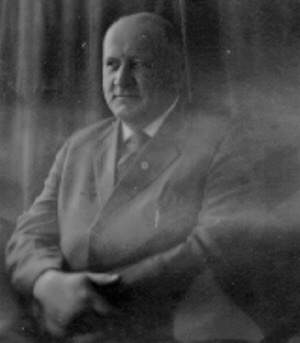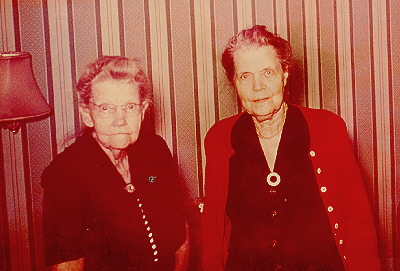 Fred Shonyo (circa 1940) and Clara Dickinson Weeks and her sister Annie Laurie Dickinson Shonyo (circa 1950)
Descendents of Lewis Dickinson Shonyo and Marion Newton Fisher
Lewis Dickinson Shonyo married Marion Newton Fisher (born 1900) in the 1920s. They settled in Lyndonville, VT.
Ruth Ann was born on February 9, 1930.
Marion died on March 17, 1939 of tuberculosus.
In late 1939, Lewis married Alice Hawkins. Alice had been born in 1905 in Claremont (?) NH, and had been Marion's nurse. They traveled to Florida many times during their marriage. Lewis died in December 1966 of throat cancer.
[[From Lewis Shonyo's obituary, Calendonia Record, December 1966]]
"After attending local schools, he worked for the Canadian Pacific Railroad and later sold real estate. In 1930, he and his brother Howard G. Shonyo started the Shonyo meat packing firm, which was sold in 1960 [[by 1990, this building was a country-western bar]].

During the 1940's, Mr. Shonyo served as first a representative and then a senator in Montpelier. As a real estate developer, he created Skyline Terrace in Lyndonville, helped develop the Willoughby Lake area, and held an interest in several properties in Middlebury. He also aided in the building of the Darling Inn, which he later owned briefly, and Lyndon Institute.

Mr. Shonyo was a director of the Merchants National Bank of St. Johnsbury, a Mason, and a member of the Congregational Church."
Alice was a talented craftswoman, having taken up hooking rugs. Several of relatives have the rugs and wall hangings that she created. She enjoyed traveling and was the only person to get Ruth Ann in an airplane. Alice died on December 17, 1991 of cancer.
Descendents of Howard Greenleaf Shonyo and Arlene Anderson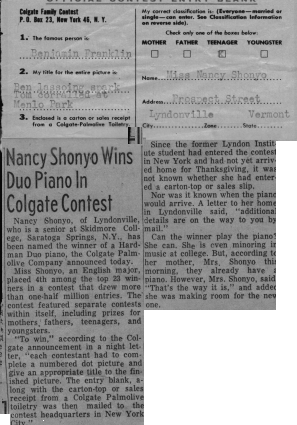 Howard and Arlene married in 1935 in Lyndonville, Vermont. Photo from their wedding. Howard was a business man and Arlene was a school teacher before her marriage.
Howard and Arlene had two daughters, Sybil and Nancy, both born in the mid-30s. Sybil and Nancy were tall, athletic and musical. Ruth Ann was also very musical and has always been a fan of entering contests. She once entered Nancy in a contest in which Nancy won a piano!
Howard died in 1979 from complications of type 2 diabetes and Arlene died in 1982 from complicatinos of type 1 diabetes.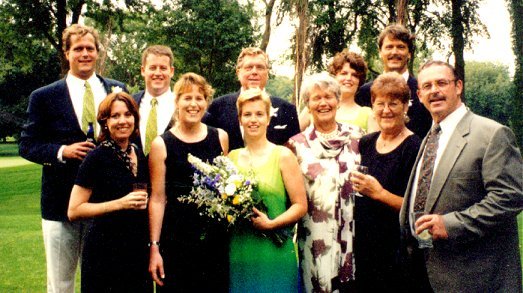 This is a picture of Howard and Arlene's daugthers Sybil and Nancy at Nancy's youngest son's wedding in August 1998. First row - Nicki Hazen, Heidi Hazen, Trina Rahm, Nancy Shonyo Rahm, Sybil Shonyo Hazen, Skip Hazen. Second row - Nils Rahm, Howard Hazen, Bob Rahm, Kristina Rahm, Lars Rahm. (Not in the picture - Andrea Hazen Welch, Robert Rahm, most of the spouses, and the eight or so great grandchildren of Howard & Arlene.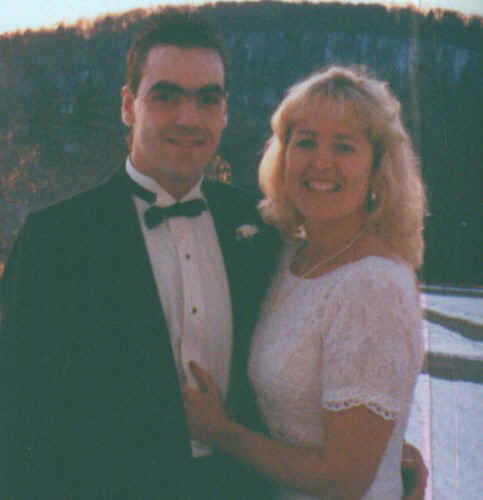 Joe and Andrea Welch's wedding in the early '90s in the middle of a Vermont winter.
Members of the Shonyo Family lived on North Prospect Street for over 80 years, from the early '30s until 2016. For a time, the town of Lyndonville renamed one end of North Prospect Street "Shonyo Lane" but we hear the town may restore the original name.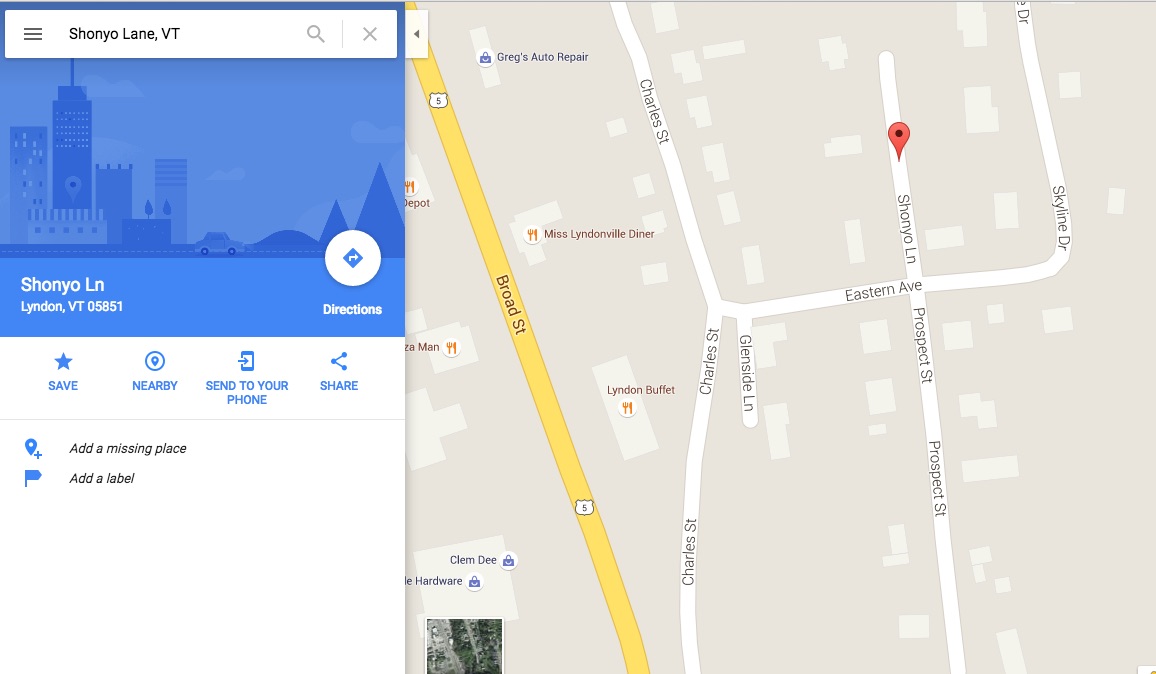 Ruth Ann Shonyo attended Colby Junior College, where her uncle, Clayton Fisher, was a professor, and later transferred to Middlebury. While in college, she met Bill who had been born in nearby Rochester, VT. After college, Bill went into the Marines, and Ruth attended Katherine Gibbs Secretarial School in Boston. They married on May 8, 1954, and both went to work for the Addison Independent, a newspaper in Middlebury. They later settled in the Worcester, MA area when Bill went to work for Worcester Polytechnic Institute as the Placement Director. Later, Ruth wrote for the Alumni Journal, and eventually became the Associate Editor. While Bill and Ruth divorced in October 1985, they remained close for the rest of their lives. They were married for 31 years, divorced for 31 years and died 8 months apart. She died July 26, 2016; Leavetakings, an Essay About Ruthie. Bill died on March 25, 2017.