Mann, Laurie: Personal Genealogy Pages
Site Map for the Genealogy Pages
I was lucky to have had relatives during the middle part of the 1900s who recorded what they knew about their ancestors. So I'm off to a good start, but I find there are many pieces of this puzzle
I've had an Ancestry.com account for a while and have made all kinds of progress. Here's the tree with all of my great-great grandparents: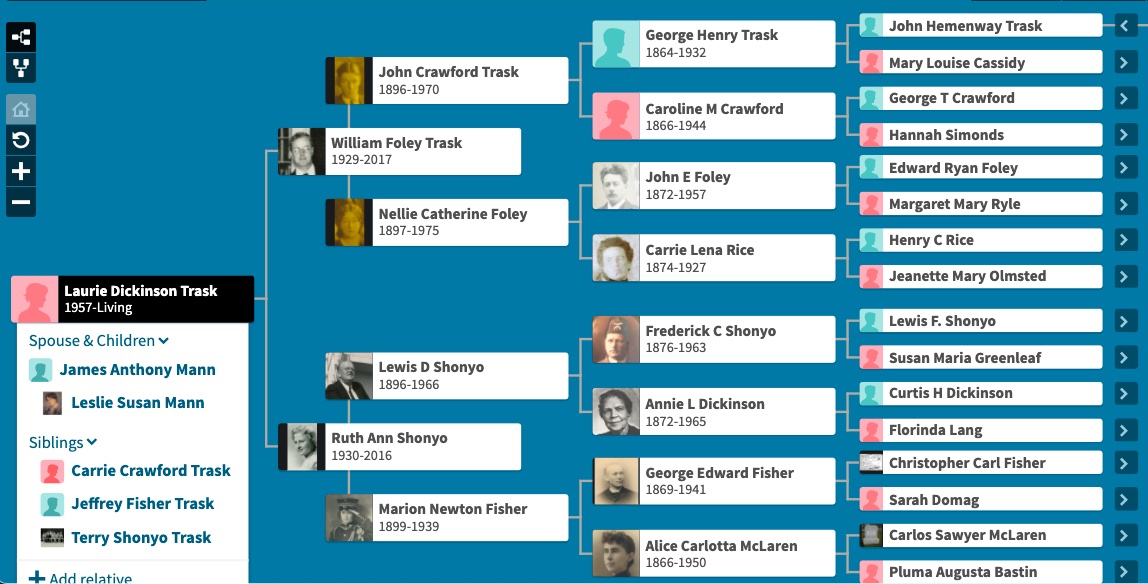 And here's a tree with all of Jim's great grandparents:

My Ancestry: English, Irish, German, Scottish, French (Canadian)
My Mother's Family
Dickinson Family of Monroe, NH, original research by Clara Augusta Dickinson Weeks in the 1950s
Genealogy-in-Progress: The Fishers of Lyndonville, VT, original materials collected by George E. Fisher, 1906-1940
Greenleaf Family, original research by a Greenleaf relative in the mid-1890s
Shonyo Family of Lyndonville, VT
Newspaper Article - Fred & Annie's Shonyo Fiftieth Wedding Annivesary, January 1944
Shonyo: How Chagnon Became Shonyo - Magog, Quebec, 1800s How a French-Canadian Became an English-Speaking Canadian by Jacques Boisver
MacLaren
My Father's Family
Trask Family of Rochester, VT Genealogy Page, original research by Margaret Trask, 1953
Foley
Crawford Family of Grafton, New Hampshire
A Terry Family Story by Willis T. Brown
The Vermont Life History of Vermont site has interesting information and sketches about life in the colonial days.
Family pictures: Our wedding, 1977, some holiday photos, our daughter's Web page, Jim's Web page, my Web page. Check the genealogy pages, especially the Trask photos page, Shonyo page and Fisher page for other family photos.
---
My Husband's Ancestry: Irish, Austro-Hungarian, German, Italian
My Husband's Mother's Family
Howarth (Horvat/Horward/Horvath)
O'Brien
My Husband's Father's Family
---
Famous Cousins
I've always been interested in famous people that I'm related to. As a child, I was always told we were related to Emily Dickinson, Noah Webster and Hannah Dustin. So I've been doing research to confirm/deny this.
It turns out, my great-grandmother was not a close cousin of Emily Dickinson at all. While they were part of the same family that emmigrated to the US in 1642, Emily was from a completely different line, which made us something like 12th cousins, 12 times removed. However, it turned out that I am from the same line as Henry Clay, so he was something like a great-great-great granduncle.
The Webster relation is even more tenuous. One of my ancestors was a Greenleaf, and it turned out that one of her distant aunts married Noah Webster. But I haven't found the connection yet.
Last year, I finally found, with the help of ancestry.com, the connection between my Mom's family and Hannah Dustin.
Info I Sent to My Cousins about Hannah Emerson Dustin
Back in the '90s, I found an interesting familial link that I had no idea about until I was doing a little research on the Southwick line. My great-great-great-great-great grandmother was a Southwick, descended from some Quakers who fled England. It turns out these Southwick forebears had a descendent named Jenny Jerome, who married an Englishman and had a very famous son - Winston Churchill.
It also turns out through my father we have one famous living distant cousin - Secretary of State John Kerry. He's also descended from the Trasks and the Elliotts who lived in Salem and Beverly, MA in the late 17th & early 18th centuries.