Newspaper Article - Fred & Annie's Shonyo Fiftieth Wedding Annivesary, January 1944
Site Map for the Genealogy Pages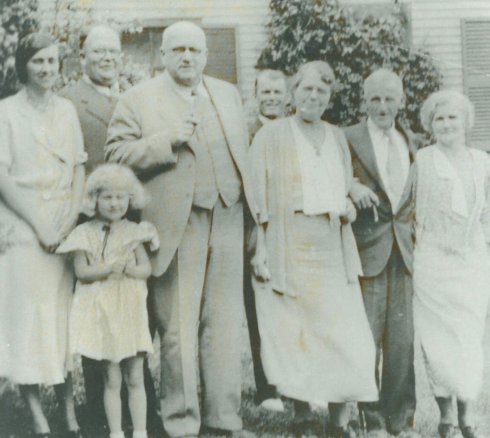 Shonyo Family at Howard and Arlene Shonyo's Wedding, 1935
From left to right, Marion, Ruth and Lewis Shonyo, Lewis and Howard's parents Fred and Annie Shonyo, Arlene's parents Walter & Sybil Anderson, their son Gordon is in the background
The following article was probably in the Caledonia Record - author unknown
It is always a pleasure to attend a gathering of this kind-first, because golden weddings are not frequent happenings, and, second, because we are unusually personal friends of the honored guests who are enjoying the rare privilege of reaching such a happy day in their lives. We speak of 50 years of happy wedded life just as if all those years had been a constant round of pleasure. But we who can look back over a good number of years know that such a blissful state is not possible, even in the very happiest and most fortunate homes. Over a period of years there come pleasures and there come sorrows and tribulations. It is easy to share the pleasures. The real test comes with the trials and if a married couple weather these, comforting each other with the simple understanding faith of true affection, they have in their lives something that great riches cannot buy. And so, when we speak of fifty years of happy wedded life, we do not mean so years of continuous pleasure, for pleasure is a transitory thing-here today and gone tomorrow. "There's never any pleasure we can fix our grasp upon." But true affection, loving trust in one another, is what enables two people to make the long journey together, "over hill and hollow," and to face life with faith and courage, and then, if good fortune gives them a golden wedding, it must be easy to look back over the years and speak of them as happy years.
It is a happy privilege to be with two people today who have traveled this long road together, faced the trials hand in hand, and now look back over the years thankful that a kind providence has given them so much to make life cheerful, and so many happy memories to enjoy on this their golden wedding day, and on days to come. And, of course, the richest of these memories are connected with the lives of their two sons who grew to man­hood in their home and then left for homes of their own. But they have the blessing denied many parents, as these two boys remained in the home village, are near them and ever thinking of ways to make their lives more comfortable and happy.
How Fred planned and put into. operation his campaign that took him to East Barnet to return with a bride I do not know. Maybe it was the discipline and training he received on the farm, helping him to do well and thoroughly the work he had on hand. I judge he had formed this habit from the following that I found in an old Vermont Union published in 1892:
"Fred, son of L. F. Shonyo, is a good boy, or his father would not make him a present of that horse, harness, sleigh and robes. Fred is but 16 years old, a good worker and full grown."
Judging from that, he had become accustomed to responsibility and this gave him courage at an early age to make a great venture, as he was only 18 when people at East Barnet were wondering why he was spending so much time down there. Anyway, that campaign he mapped out was a success, as he persuaded a young lady, with what golden promises no one but themselves know, to make the great venture with him. And in consequence of this the following news item appeared in the Vermont Union of January 5, 1894, under East Barnet:
"The event of the week in East Barnet was the marriage of Fred C. Shonyo of Lyndonville and Anne L. Dickinson of East Barnet on Jan. 1, the ceremony being performed by Rev. John Nason of Lyndon Center, Among the presents were a piano and piano lamp from the groom's parents, Mr. and Mrs. L. F. Shonyo, a berry dish from W. H. Kenyon and wife, a mirror from W. A. Densmore and wife, linen from Mrs. Fred Stevens, a berry spoon from J. A. Moore and wife, nutcracker and picks from Rev. Nason and wife, card receiver from Dr. C. W. Staples and wife, towels from W. H. Gilfillan and wife and other presents.  The happy couple will reside at the Shonyo farm, east of Lyndonville.
Soon after the return from the wedding trip, the groom and bride received a call one evening from about 50 of their young friends, bringing more presents, good wishes and a merry time that lasted well into the night.
In this old farm home they lived for 18 years, Lewis and Howard, their two sons, being born there, and also another son who was taken from them. It was a busy life there on the farm, but also a good kind one for the growing boys, and then was much pleasure along with the hard farm work. Lewis must have taken to this farm work like a duck to the water, for I have discovered this interesting paragraph in a Vermont Union published in 1901.  The paragraph is headed "A Remarkable Boy:"
"L. F. Shonyo has a grandson, Lewis, son of Fred, who, as a precocious farmer, beats all the boys on record. He is up every morning of the week before five o'clock, jumps into his little overalls, and goes with his milk pail to the barn, where he milks from one to four cows. He is never urged to get up so early in the morning or to milk, but follows his own inclination. Show us another boy in the state five years old or under who is able to milk a single cow. When Lewis is of age he will be good for a dairy of 50 cows single-handed."
Thirty-two years ago, the farm was sold and they moved to this village of Lyndonville into the house where they have since lived. Since coming here, Fred for a time was in the meat business, cattle business, etc. After some years he and Mrs. Shonyo bought the restaurant here now known as the Willey restaurant, and for quite a long time made this one of the most popular and best patronized restaurants in this north country. People liked to go there not only because of the good food but because of the friendly atmosphere that created a homelike feeling.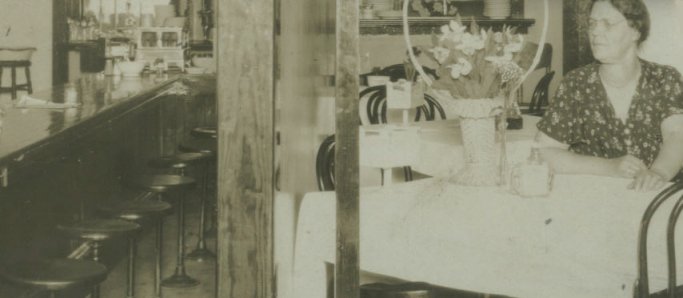 Annie Shonyo in her restaurant, 1930s
A few years ago they sold this restaurant, Mr. Shonyo going to work that he likes and knows well how to do at the L. D. and H. G. Shonyo packing plant, and Mrs. Shonyo returning to the home life that is to be the happy life. They are friendly people, the best of neighbors, kind and generous hearted, and so hospitable that in their home and when a the. restaurant, one might often think of these lines by Oliver Goldsmith:
Blest be that spot, where cheerful guests retire
To pause from toil, and trim their ev'ning fire;
Blest that abode, where want and pain repair,
And every stranger finds a ready chair.
There are not any model husbands that I know of, but Fred could qualify to a good average degree. The only time he ever fell from grace, so far as I know, was one night long ago when he made up his mind to have a night out with the boys. He got home in the early hours, just a little before daybreak. He wished to get in without disturbing his wife, so took off his boots, opened the door and crept quietly in. He felt thirsty, got a glass of water and drank it. There happened to be a small ball of silk thread in the bottom of the tumbler, and draining the tumbler of the water he swallowed the ball, the end of the silk thread catching in his teeth. Feeling something unusual in his mouth, he put his fingers in his mouth to see if he could discover what it was. Getting hold of the thread he began to pull and kept pulling till there seemed to be no end to that thread. Finally he became excited and alarmed, and forgetting all about his desire not to awaken his good wife, he shouted:
"Help, wife, help. Come here, Come here, quick. I'm all unravelling."
The Shonyo family has been a well-known, prominent and helpful one in Lyndonville from almost the time that L'ville came into existence.
L'Ville started in 1866 and L F. Shonyo came here from Magog, P. Q., not far from 1870, being in the employ of the old Connecticut and Passumpsic rivers railroad in the building or construction department. I noticed in the old newspaper files that in 1873 he was drawing material  for a new house south of Wm. Young's, wherever that might have been. He went back to Canada for a while but returned to Lyndonville in Sept. 1875 to take charge of the railroad wood supply for the next year or so. In October 1876 Mr. Shonyo bought the lot opposite the railroad station and began the building of a large boarding house. In April 1877, he changed his plans, built an addition to the building and made into a hotel, first called the Centennial I louse and then the Union House, it now being the Pleasant  View House. Thus Mr. Shonyo became the second hotel proprietor in Lyndonville, George B. Walker being the first. Before the summer of that year was over, the new hotel had 20 regular boarders and all the transients it could take care of.  In October 1877 the Union House was leased to Mr. Gilman, former landlord of the St. Johnsbury House, and later he turned his lease over to a S. W. Wiggin who turned it hack to Mr. Shonyo in June 1879. In September 1880, Mr. Shonyo commenced the building of an addition, 4Ox6O to the Union House, this being demanded by the increase in business. Not having enough to look after, he built a large ice house in 1884 to provide a supply for the village and continued in the ice business for a number of years. It was, so far as I know, the first ice business in Lyndonville. As a young boy I remember the arrival of his ice cart at my home at the Corner. In 1885, he did quite a job of grading about the hotel yard. In June, 1887 he was offered $6500 for his hotel property but his price was then $7000 and no trade was made. The man who made the offer was B. S. Hastings. In July 1888 Mr. Shonyo sold his hotel to O. G. Chase for a price reported to be $6000, including furniture and livery stable. In August of that year, 1888, he bought the Erastus Graves farm on Hog Street where his son Fred and his bride spent the first years of their married life. He paid $7000 for this farm. He continued in the ice business and in 1899 had two large ice houses. In a paper of May 13, 1892, I noticed this item:
"L. F. Shonyo has a new ice wagon, built by the Lyndon Carriage Co. It is a substantial affair, as are the carriages, sleighs, carts, etc., made by this company."
And in a paper of Sept. 1892 is this item about Mr. Shonyo's
"L. F. Shonyo is a progressive farmer, and that is the reason we say he is a successful one. But the assertion needs only a visit to his farm for ample proof. He has a good acreage always under tillage, which is very essential to running a successful dairy or stock farm, and his barn room is being constantly increased to accommodate his multiplying stock. He has now just completed a large addition to his barn 36x40, making a building 100 feet long with a driveway on the high beams and also on the first floor, He has enough room for 41 head of cattle, all fitted up with the Cheswick patent swing stanchions. His stock and horse barns arc adorned by good-looking cupolas, which set them off to advantage to the passers-by. Mr. Shonyo has two silos, 16x18 and 12x16, which will be full for the winter's feeding. Mr. Shonyo's industry will not allow him to loaf an hour away, so, in connection with his farm work, he carries on a good ice business, cutting and delivering many tons yearly. This fall finds him with several tons yet on hand."
Two or three years ago L. F. Shonyo's grandsons, Lewis and Howard, purchased this farm, extensively repaired the barn, putting it into condition to take care of a large herd of cattle. They also thoroughly repaired the house, making it one of the most comfortable and pleasant farm houses in this part of the country. I have been up there several times but as yet have not discovered Lewis in the act of milking a cow. I am afraid he has not carried out the prediction made in that newspaper story so many years ago, that he has deteriorated so far that kind of farm labor is concerned...