Trask Photos
Site Map for the Genealogy Pages
Trask Family of Rochester, VT Genealogy Page
Trask House, Rochester Vermont, 1923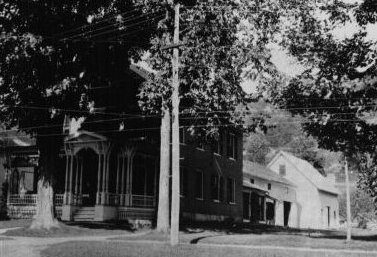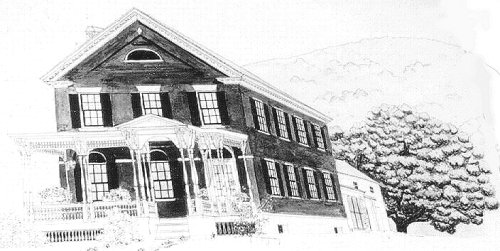 Photo above scanned by Terry Rostamo
Old Post Cards of Rochester, Vermont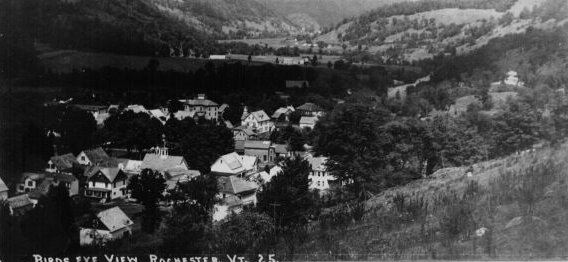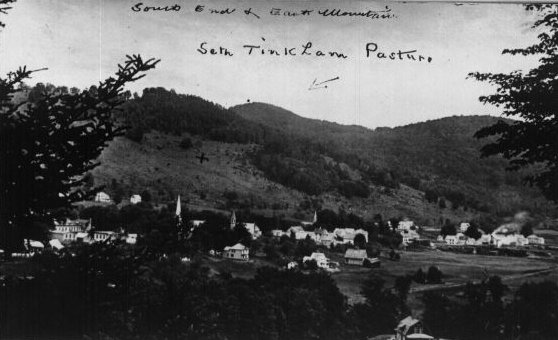 John and Mary Trask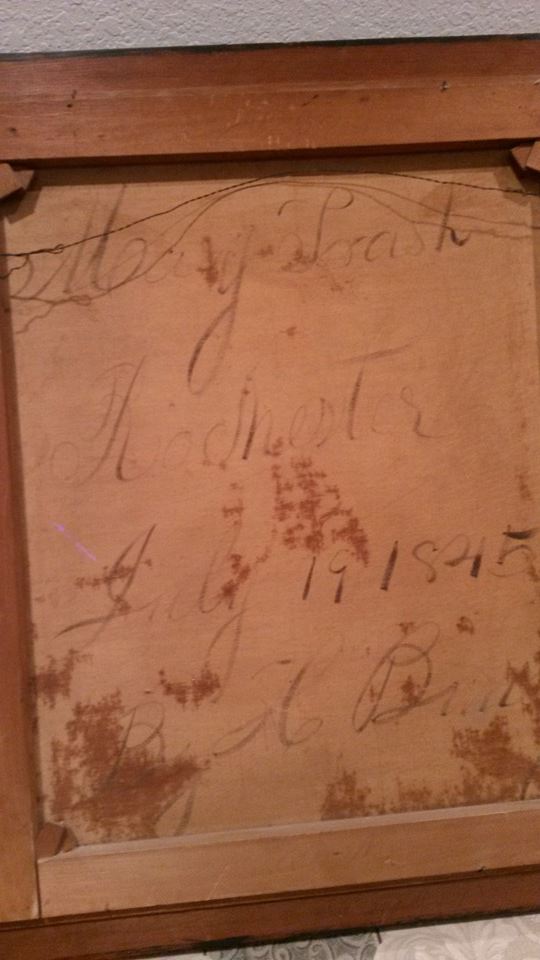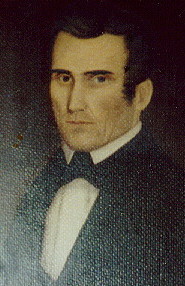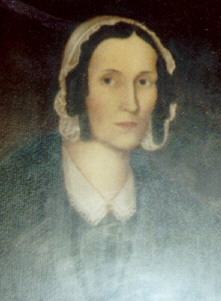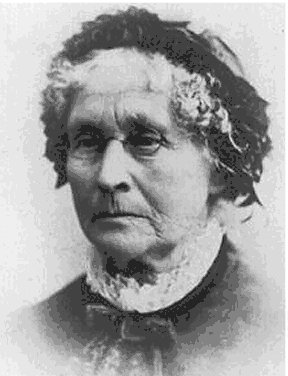 The portraits are of John and Mary Trask of Rochester, VT. They were painted in July 1845 by Horace Bundy, a New England portrait painter. My Cousin Mardie has the originals (in Texas after over 160 years of hanging around Vermont). A number of copies were made, and Trask descendents from across the country have them, including my father. Terry Rostamo scanned in a much later photograph of Mary. If anyone has a current address for Terry Rostamo or Willis T. Brown (who may have died in September 2001 - can anyone confirm?), please let me know.
So, this is cool (at least to me). I wanted to see how quickly the info that the portraits of John and Mary were by Bundy got into Google. So, I ran a search on "Horace Bundy" "John Trask". The first link up was not this page, it was "The Ancestry of John Kerry." It turns out I'm a distant cousin, as we both had Trask, Elliott and Herrick relatives who lived in Salem in the late 17th and early 18th centuries. I'm a huge Kerry fan and met him while he was campaigning in Pittsburgh in 2004. He's descended from John and Christian Trask of Salem, late 1600s. I added the info about Horace Bundy to this page on 9/14/14 and it was in Google by 9/22/14.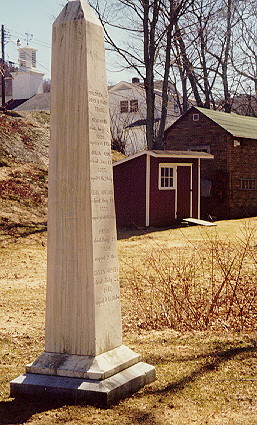 John & Mary Trask Children's Obelisk Marker, Old Cemetary, Rochester, VT
The names on the back of the marker are of the children of John and Mary who died young. John Trask's name appears on the other side of the marker.
John & Mary and J.H. & Mary Trask's Gravestone, New Cemetary, Rochester, VT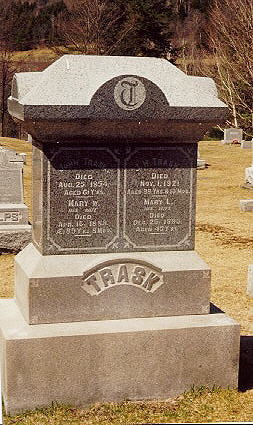 At some point in about 1870 or so, the old cemetary was closed and a new cemetary opened on a hill overlooking the southern part of town. John Trask has head stones in both locations!
J. H. Trask's Store Sign

This sign hung in front of J. H. Trask's store, and is now hanging in the general store in Rochester, along with other momentoes from his store.
Rochester High School, 1914 School Photo (partial)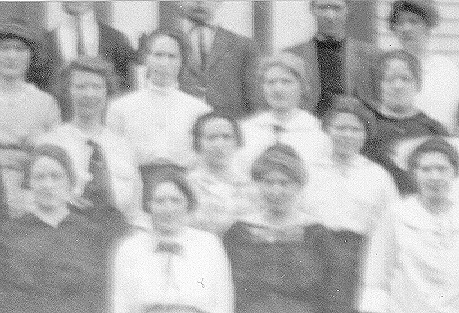 This is an unfortunately blurry photo of a photo I found in the Rochester Historical Society. My grandfather, John Trask, is in the top row, the man in the black T-shirt. My grandmother, Nellie Foley, is in the first row on the far left. Her father, John Foley, was a blacksmith.
Thanksgiving 1970

This is the first Thanksgiving after Grandpa died. The red-haired cousins are, from left to right, Mardie & Anne Trask. The blonde cousins are Laurie, Jeff, Carrie and Terry Trask. Grandma Trask is in the middle.

April 2004


Anne Trask, Mardie Trask Sorenson, Laurie Trask Mann, April 30, 2004
Thanksgiving 1972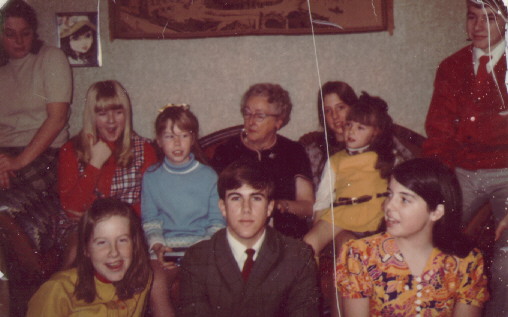 Pat, Debbie, Mardie, Nellie, Jay, Pam, Bobby, Anne, Alan Wright, and Sally Trask.
Estate Sale, August 1980
The brick house on Main Street was in the Trask family from 1837-1980.
| | |
| --- | --- |
| Estate sale, back yard | Franklin stove |
| | |
| Dining room and china cabinet | Living room |
Christmas '96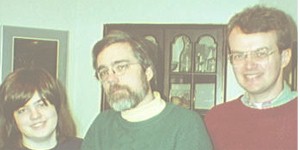 Leslie and Jim Mann, Jeff Trask celebraing the holidays in Pittsburgh, PA
Thanksgiving '98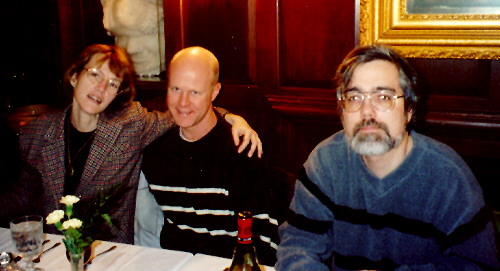 Carrie and Terry Trask, Jim Mann at the Spencer Country Inn for Thanksgiving dinner, 1998.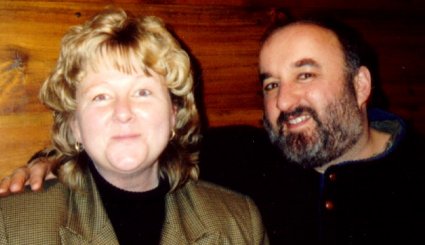 The next day, my father and I drove up to New Hamshire and had lunch with my cousin Debbie and her husband Glen.